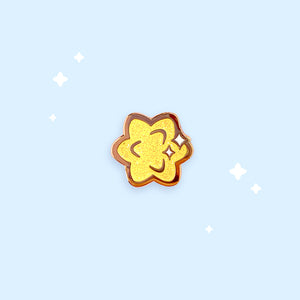 This listing is for x1 Star Fragment pin. 
*Star Fragment included for FREE with every AC Collection purchase. Or you can purchase separately.
☆ 9/16" tall (slightly bigger than 0.5")
☆ Hard enamel
☆ Gold plated
☆ Yellow rainbow glitter
☆ 1 Rubber clutch
***Note: "B-Grade" pins may or may not come with a backing card, but will be sealed in a protective baggie.
_______________________________

*Disclaimer: These are handmade items, which means there may be slight variations in each pin. However I deeply inspect all pins for defects so that you will receive nothing short of an awesome pin :) Click here for the Pin Grading Guide